Kapil Sharma Vs Sunil Grover: Could This Be The End Of The Kapil Sharma Show?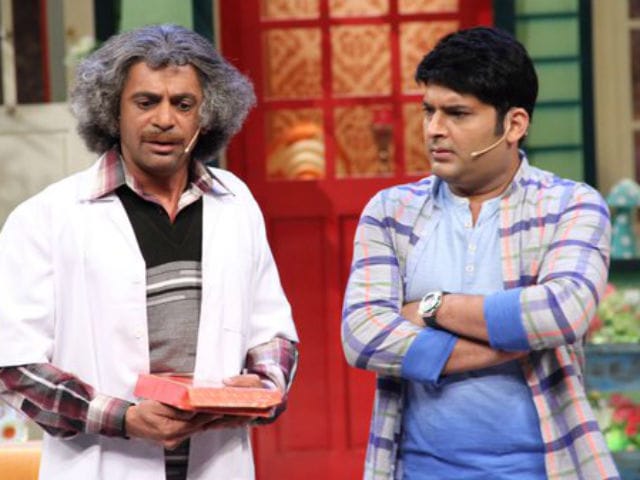 A still form The Kapil Sharma Show
The public feud between warring comedians Sunil Grover and Kapil Sharma
seems to have affected
the fate of Mr Sharma's show worse than was expected.
The Kapil Sharma Show
is reportedly scheduled for renewal for another season in April, which will reportedly be a deal of Rs 107 crores, as reported by
DNA
. A week after Kapil Sharma was accused of allegedly assaulting his colleague Mr Grover on a flight back from Melbourne, a source close to the show told DNA, that a fresh season of
The Kapil Sharma Show
seems "unlikely". "Their contract ends in April and Kapil was being paid Rs 107 crore for a renewal. Now, that seems unlikely," the source told
DNA
. The makers also reportedly fear a dip in the ratings of the show following Mr Sharma's showdown with Mr Grover.
The Kapil Sharma Show
is also well known for featuring Bollywood celebs, including superstars Shah Rukh Khan, Salman Khan, Hrithik Roshan and Akshay Kumar. The source also told
DNA
that now, stars are allegedly unwilling to make appearances on the show. "Despite it being the flag-runner of a show on the channel, the makers might have to take a tough decision as they fear that post this, they will lose out on the TRPs. Even celebrities aren't really willing to turn up for the episodes," the source told
DNA
.
The Kapil Sharma Show
regulars Ali Asgar, Chandan Prabhakar and Sugandha Mishra were not present at the shooting of an episode on Monday, allegedly in support of Sunil Grover, who is reported
to have quit the show
. However, there is no official confirmation from Mr Grover yet. Subsequently, a recording scheduled for Wednesday was cancelled, a rep for Sony, the channel that airs the comedy show, told NDTV. Several actors of the show allegedly did not turn up and celebrity guests were also unavailable for the new episodes.
In a Facebook post on Saturday, Sunil Grover has announced an upcoming gig with Kiku Sharda and other actors scheduled to be held on April 1 in Delhi. The show, titled Dr Mashoor Gulati's Comedy Clinic, will see Mr Grover perform as Dr Mashoor Gulati, the character he plays on Kapil Sharma's show.Meanwhile,
comedian Raju Srivastava
is reported to be the one being considered as the new comic for the series after he shot for an episode of
The Kapil Sharma Show
and shared pictures from the sets on social media. The makers reveal that Mr Srivastava was one of the guest stars included for Monday's recording. Talking to NDTV, Mr Srivastava said that he has not been asked to join yet and that if he is, he will not be a replacement for either Mr Grover or anyone else.
Now, here's a little backstory about Kapil Sharma vs Sunil Grover. Kapil Sharma allegedly verbally abused and assaulted Sunil Grover with a shoe while Team
The Kapil Sharma Show
were flying out of Australia.
Several eyewitnesses
revealed that a drunken Mr Sharma lost his calm after his teammates began their meal without him. Mr Sharma was particularly offensive towards Sunil Grover after he tried to pacify the show headliner.
While Mr Sharma has not officially admitted to the alleged assault, he did mention an "argument" in a Facebook post of his, which was shared as an apology (of sorts) to Sunil Grover. Mr Grover responded in a tweet saying "Yes, you hurt me deeply."
Sunil Grover features as the characters Rinku Bhabhi and Dr Mashoor Gulati on
The Kapil Sharma Show
. Mr Grover had also quit Kapil's previous show
Comedy Nights With Kapil
over payment issues.