Trump calls to congratulate PM Modi & Germany's Angela Merkel on recent election victories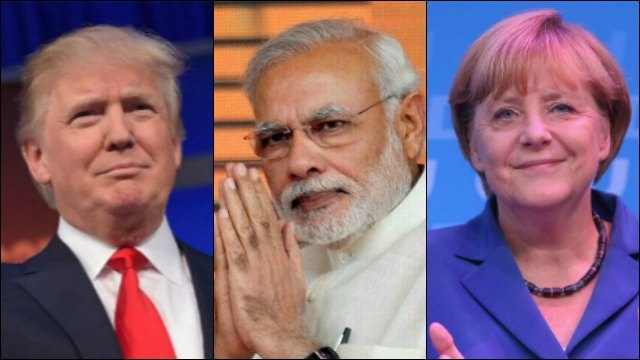 US President Donald Trump spoke with Prime Minister Narendra Modi and German Chancellor Angela Merkel on Monday, congratulating the leaders on their parties recent election victories, the White House said.
Led by PM Modi, the Bharatiya Janata Party (BJP) won big in the recent assembly elections in the five states of Uttar Pradesh, Uttarakhand, Manipur, Punjab and Goa, forming governments in all states except Punjab. BJP won a thumping victory in the politically important state of Uttar Pradesh, winning 312 of 403 seats. In Uttarakhand, BJP won 57 of the 70 seats. In Goa and Manipur, BJP finished as the second largest party but formed government with the support of regional parties.
German Chancellor Angela Merkel's conservatives won a regional election in the western state of Saarland on Sunday, dealing a setback to their Social Democrat rivals and boosting her prospects of winning a fourth term in September's national election.
Merkel's Christian Democrats (CDU) strengthened their position as the largest party in the state despite expectations ahead of the vote that the Social Democrats (SPD) would be boosted by their new national leader, Martin Schulz.
The CDU won 40.7%of the vote, up from 35.2% in the previous election in Saarland in 2012, preliminary official figures showed. The SPD slipped to 29.6%, down from 30.6%.
With Reuters inputs.