Women Cook 56 Boxes Of Mac And Cheese Only To Bathe In It. Pics Go Viral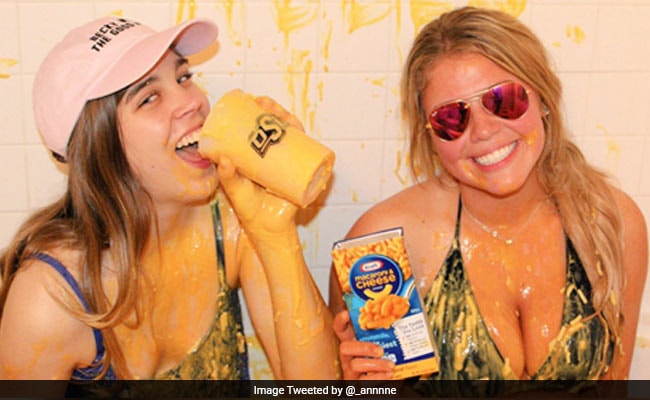 NEW DELHI:
This is what happens when you love food a little too much. A viral tweet shows two college students bathing in a tub full of macaroni and cheese, because why not? "My roommates got the coolest bath bomb!" says Anne Henry Maggio on Twitter. She documented her friends actually sitting in a tub full of the ready-to-eat meal and later posted the pictures on Twitter. They have since gone viral and invoked quite a few reactions from people on the social networking site. Posted on March 27, the tweet has collected over 11,000 'likes' and more than 3,000 retweets so far.
According to
Mashable
, the whole thing started when Ms Maggio made a little joke while talking to her roommates Madison Harper and Ashley Randall. They all study at Oklahoma State University.
"Ashley said she wanted to make 10 pots of mac and cheese and I said 'Well why don't ya bathe in it then?' and here we are," Ms Maggio told
Mashable
.
It seems her roommates took the joke as a challenge and went out to make it happen.
They used no less than 56 boxes of mac and cheese for their special bath. They cooked the meal, put it into the tub and changed into their swimsuits before jumping into the bath.
Now, people can't stop commenting on the pictures.
"This makes me so uncomfortable," says one commenter on Twitter. "This is honestly the best thing I've ever seen & something I would totally do," says another.
Several others reacted like this:
What do you think about this? Tell us using the comments section below.