Mukesh Ambani Launches "India Ka Smartphone" For An Effective Price Of Rs. 0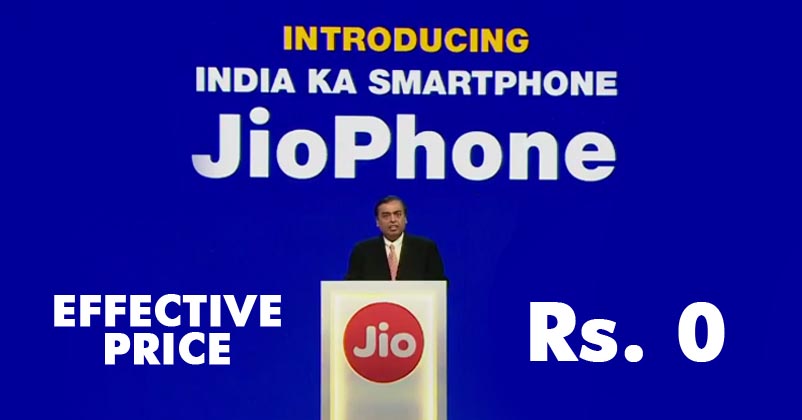 If Reliance Jio stormed the telecom market, the much-awaited Reliance Jio phone will now storm the phone market. On Friday, Reliance Jio phone was launched at Reliance Annual General Meeting by Akash Ambani and Isha Ambani, children of Mukesh Ambani.
Talking about the Jio phone, Akash says that it will make Narendra Modi's 'Make in India' dream come true. The best part about this phone is that it will be technically free as the consumer will need to deposit Rs. 1500 as the security deposit in the beginning; however, it will be refunded after 3 years. There will be 22 languages in the phone and users will be able to make calls free of cost. Not only this, it will also give unlimited data to its users. Mukesh Ambani says that all the big e-commerce portals will be added in the phone and their aim is to bring 99% of the Indian population under digital coverage.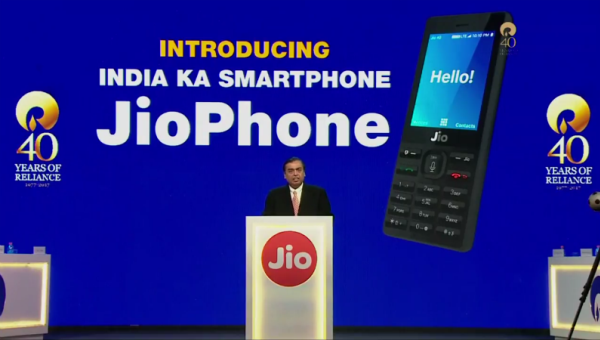 Here's what Mukesh Ambani said,
"We plan to collect a fully refundable, one-time, security deposit of Rs 1,500 with every Jio Phone. From 15

th

August, 2017, all Indians will have access to the highest quality & quantity, affordable & unlimited data."
From 15
th
August, the phone will be available for testing while pre-bookings will start from 24
th
August and customers can get their phones from September. The phone will have good number of apps including Facebook, PM's Mann Ki Baat and JioPhone browser.
These features will be available in the phone:
1) Alpha numeric keypad
2) 2.4 inch QVGA display
3) FM radio
4) Torch light
5) Headphone jack
6) SD card slot
7) Four way navigation system
8) Phone Contact
9) Call History
10) Jio Apps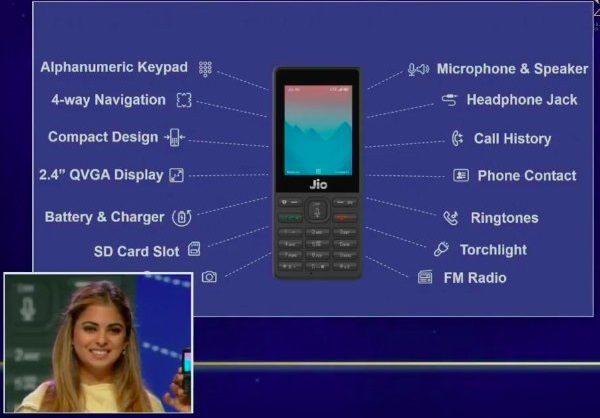 Users will have the option to either pay Rs. 153 for which they will get free voice and SMS with unlimited data or they can pay Rs. 309 for which they will be provided free voice and SMS with unlimited data with the support to mirror the screen with TV through a cable, which can be also joined with CRT TVs. The user can get security deposit refunded after three years when he returns the phone.
Mukesh Ambani said,
"There are 78 crore mobile phones in India. However, in this 78 crore, there are more than 50 crore feature phone users, who have been left out. They can neither afford the cheapest LTE smartphone, nor the exorbitant cost of data."
He added,
"Data is the oxygen of digital life, and no Indian should suffer because of unaffordability. Sadly the vast majority of mobile users are starved of data. This unfairness must end, and Jio is committing to ending it today."
Mukesh further said,
"Jio is a data strong network built for the Internet from the ground up. The TRAI speedtest portal has consistently ranked Jio as the clear 4G network leader in coverage, usage, and data speeds. Our network continues to rapidly expand. Jio, in the next 12 months, will cover 99 percent of the population. India's 4G coverage will be more than its 2G coverage."
Undoubtedly, with this launch, Reliance will once again bring a revolution in the Indian telecom sector. What do you say?
The benchmarks that
Reliance JIO
has so far broken is just countless. Jio literally evolved as a game changer fighting against many odds. Within no time, this mobile network has become the people's most loved one throughout the massive country.
Since its grand release on September 5th, 2016, Reliance Jio has been popping wonders in the whole country's telecom industry. The unbelievable free of cost Internet and unlimited calls is something everyone can ever dream of.
As we all know Jio has already made last year an exciting one with the whole new world of Jio4G free services. Now, this year Reliance Jio is going to surprise us again with something really exciting.
And now again, Jio breaking the records further, it has come up with new surprise offer for its Jio users i.e, FREE 4G Mobile phone named JioPhone 4G.
Yes, you heard it right! Read the whole story here…
Yes, Reliance Jio has just announced it's latest hardware product at its AGM today, a 4G feature phone designed for people who just want a basic phone with good internet access.
The JioPhone will be available for free but buyers will have to deposit a fee of Rs 1500 which will be refundable after three years on returning the phone. This means the phone will be available at an effective price of zero.

The phone was launched at the 40th AGM meet of RIL. JioPhone will be available for beta testing this 15th August, while pre booking will start from 24th August; physically it will available from September this year.
The JioPhone comes with a 2.4-inch QVGA display, with 512 MB of RAM and 4 GB of internal storage, expandable up to 128 GB. It features a VGA front camera and 2MP rear cam, and is powered by a 2000mAh battery.
The JioPhone has 4G support, and features both a mini and nano SIM slot, though there's no 2G or 3G support. Additionally, the device has Bluetooth 4.1 and WiFi connectivity, so it's still more than what you'd expect of a typical feature phone.
"
It is made in India by the young Indian

," Esha Ambani told announcing the launch of the phone. Jio termed it as "India ka smartphone".

Pre-Book From 24th August:
More importantly, Mukesh Ambani has proclaimed that the JioPhone "will be available to all Indians at an effective price of Rs 0." The company says it will collect a Rs 1,500 security deposit to prevent misuse, which will be refunded after a three-year duration, if you choose to return the phone.
Jio Feature Phone Key Announcements:
Will go on pre-booking from 24 August
Will be available for free of cost
Consumers to pay Rs 1,500 as refundable security deposit for 3 years
New set of data plans, starting at Rs 153 for the device

2.4-inch display
Supports digital payment via NFC
SD card slot for memory expansion
Torch light
Supports 4G VoLTE for calls and data
So will you buy the free Jio phone? Let us know your views in the comments section below.